Surfshark VPN has plenty to offer its users despite it not exactly being one of the best services out there. If you want something which is cheap, easy to use and don't mind too much about your privacy then it's definitely one worth looking at. Today, we're going to take a look at Surfshark VPN in detail to discuss its merits and drawbacks.
Ease of Use
Using Surfshark VPN is very, very easy. It's one of the simplest services to use out there. In only a matter of seconds you can have an account created, verified and be downloading the software into your browser.
This is one area where Surfshark is lacking, however – the fact that it's browser-based. At the moment, you can only use it through its Chrome and Firefox extensions in addition to their new Android application. These apps are super lightweight, though, and make the job of securing your connection simple enough.
VPN Location
With Surfshark you have the option of connecting to one of multiple different locations across the world. Although it's great having 100 servers, what good are they if they're all based in one country?
This isn't a problem with Surfshark, however. At the moment you can access around 100 servers spread across 14 different countries and jurisdictions. These countries include Australia, France, Germany, the UK and U.S., Italy, Netherlands and Iceland.
Although this is not as many options as some other VPN providers, Surfshark are growing by the month and, as a relatively new service, they are not doing too badly!
Back to top

↑
Price
So far as pricing goes, Surfshark is relatively expensive for a service which is still very basic (such as not having a desktop app) if you want to pay monthly, and this can be a turnoff for some people. At the time of writing this review, a monthly subscription is around the $11.95 mark.
You can, however, save a lot of money by opting for one of their bulk monthly plans. You can get 6 months billed all at once for $53.94 months billed ot 12 months billed at once for $71.88. That's $11.95, $8.99 and $5.99 per month respectively when broken down.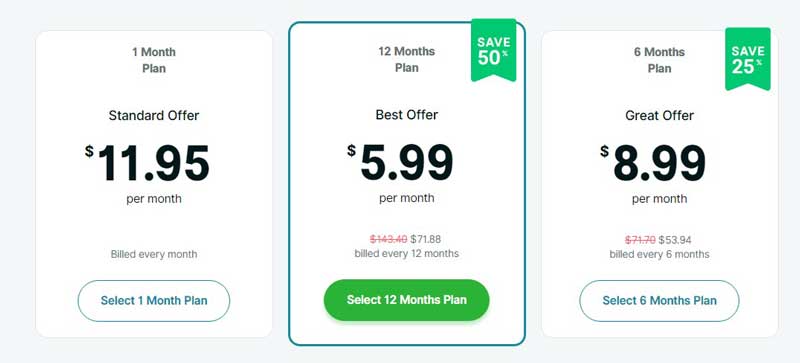 Privacy
Surfshark as a VPN service is one which provides pretty good privacy. Surfshark claim to offer a completely private VPN service which is supported by the fact that you can pay with cryptocurrencies. They practice a strict zero-logs policy as stated in Terms of Service.
Speed
The speeds that we got when performing tests were good, however, they could be better. At times, the speeds we would be getting were significantly lower than our actual speeds when not connected to the VPN service.
They are fast enough to provide a reliable and stable connection to the likes of Netflix and P2P services. It is likely that, over time, as Surfshark gets older that their speeds will improve. For now, they are good enough for most basic-level tasks.
Back to top

↑
Customer support
One area where Surfshark VPN really does shine is its 24/7 customer support service. You can access support by either visiting their knowledgebase and live chat. You are also able to get customer support by sending in an email to them.
Surfshark's customer support are more than happy to help their customers out with whatever queries and problems they are having. Want to know which VPN servers are good for unblocking Netflix? Have a privacy-related concern? Want to ask a technical question? Their customer support will be able to help you around the clock.
Back to top

↑
PROS
Countries: 54+
Servers: 500+
30 Days money-back guarantee
6-Months Free VPN Access
Check more PROs here