UltraVPN
Visit Site
This VPN claims to be ultra safe, ultra fast, and ultra secure. That would be everything you would want in a VPN, but are their claims legit? This review will look into what UItraVPN has to offer so that you can decide that for yourself.
Ease of Use
UltraVPN is uncomplicated and simple to use. You simply download the VPN and fill out a form with your personal information and then complete the payment form. Once you have paid for your membership, you have unlimited access to all the locations from any of your devices.
It works on any platform, be it windows, apple, or android. You get instant access, no waiting around for approval or shipment.
There are no limits to browsing, downloading, or streaming, so you don't have to worry about going over your limit.
Back to top ↑
VPN Location
A big reason to use a VPN is that it opens up the whole world to your computer. You are no longer bound by restrictions placed on you based on where you live. A VPN can allow you to change the location of your ISP to wherever you choose.
Does UltraVPN give you enough variety of locations to choose from? Let's talk about some of the different locations you have to choose from. They have 57 in North America alone. They also have 20 different locations in Europe, 13 in South America, and 17 in Asia. But that's not all. They also have 9 African locations and 7 in Oceania. Every continent is covered!
As a member of UltraVPN, you will have access to each of these locations as a server for your web browsing needs.
Back to top ↑
Safe and Private Connection
Another important aspect of a quality VPN is their security. You don't want your information to be accessible by the entire world, you just want to have access to the entire world of information. You shouldn't be risking that when you log into a VPN.
With UltraVPN, you always get the protection of a strong 256-bit encryption with traffic staying inside the VPN. You will be safe from hackers and your browsing history remains private. Whenever you log into UltraVPN you get free protection from the built-in firewall.
You can browse the web undetected and not be worried about who is watching what you do. Using this VPN gives you total web browsing freedom.

Back to top ↑
Speed
UltraVPN boasts having no bandwidth cap. You are free to stream live videos, Netflix, Hulu, and much more, even from another country, and not sacrifice speed. It wouldn't be any fun to get connected to world and wait forever to see it.
This VPN service does really well to keep your connection strong and fast. As long as you have a great connection to fast Wifi at home, your VPN connection should be high quality with no need for buffering.
Imagine watching your favorite programs from home while you are away on vacation. Or getting access to Italian soap operas or movies from the comfort of your own home.
Back to top ↑
Price
First of all, you can access this VPN totally free. This free version, however, is limited. If you know that you want to access the entire web available around the world, I suggest you try their paid version.
It is very affordable and it gets cheaper the longer you sign up for. A month of this VPN is around $8. For 6 months that price goes down to $6 per month, but if you sign up for a year, you get a low price of $2.25 at the 70% off deal.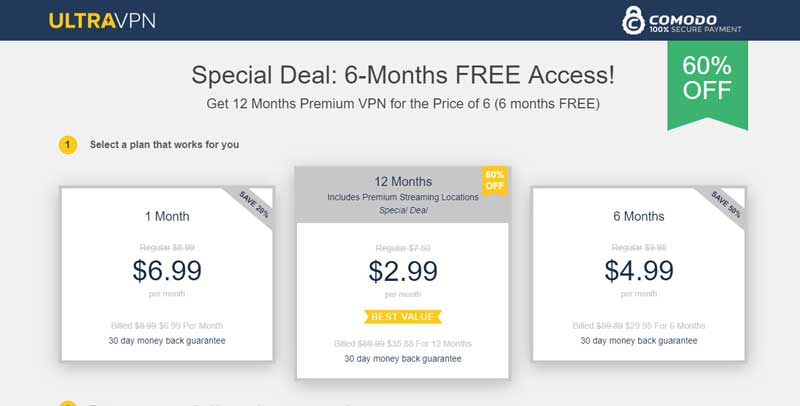 Back to top ↑
Solid security and an anonymous web presence
When shopping for a VPN, you are looking for a few certain criteria to match. Would you like to know how well UltraVPN meets the criteria? Yes!
PROS
Countries: 100+
IP Adresses: 1,000+
Servers: 1,000+
6-Months Free VPN Access
Check more PROs here