Best VPN for Business
For users in
-
Always-on Ultra-fast Online VPN for your Privacy
Stops Malware, Ransomware and Viruses for your Protection
Cloud Based Internet Management and Filters for your Control
The best business VPN services
In this technological age, almost all business is done online, and the internet has permeated into almost every industry on Earth. Even the smallest and most niche of businesses are becoming increasingly reliant on the internet, and with more and more cases of high-profile hacks and data leaks, it's never been more important to keep your business networks safe and secure.
A virtual private network (VPN) can assist with this, and the best VPNs for businesses are able to secure connections among your workers, ensuring that hackers and trackers can't spy or steal any of your sensitive documents or files.
VPN servers can also be set up to provide secure, remote access to company files for your workers, allowing them to work safely and securely even from home or while on-the-go, as well as keeping their own devices safe while traveling around and connecting to public Wi-Fi networks in places like hotels and airports. This guide will introduce you to the top-rated business VPNs.
How to Choose the Best VPN for Business
When it comes to VPNs for business use, the main area you'll want to be focusing on is security. Businesses need to keep their data secure and their connections protected, with studies showing that a single data leak can lead to huge amounts of lost income and countless other issues for businesses to resolve.
Speed will be another key issue, as you won't want to make use of a VPN that slows your workers down. Low speeds lead to lower productivity rates, which could harm your company rather than help it, in the long run, so try to focus on a business VPN that is able to boast of a large server network and solid performance for its users.
You may also want to look at some key features that might be essential for your business, such as high or unlimited numbers of simultaneous connections that will allow your workforce to all benefit from the VPN without needing to buy multiple subscriptions and set up several accounts.
Kill switches are useful too for security purposes, and you might want to find a VPN that lets you set up a dedicated IP address, rather than sharing servers with other users, as this will give you even more protection and additional control. If you can find a VPN offering these features, along with great speeds and security standards, it could be the perfect choice for your business.
Here Are
The Best VPNs For Business

Reviewed & Compared

One of the biggest names in the VPN industry, ExpressVPN is famed for its speeds and security standards. It's a big hit with commercial users, and it can also be classed as one of the best VPNs for business too, thanks to its impressive technology and enormous server network stretching all over the globe.
Speed and Performance
With literally thousands of servers dotted all around the world, ExpressVPN is able to offer premium speeds and performance levels, no matter where you are. You shouldn't notice any issues when trying to make use of this VPN.
Strong Security
When it comes to security, ExpressVPN makes use of the strongest protocols and the most exceptional, military-grade forms of encryption. This will ensure that your business files and documents stay safe in any situation.
Number of Simultaneous Connections
On a single ExpressVPN account, you can run up to five simultaneous connections. It's not the biggest amount, but it's more than enough for small and mid-sized businesses to get by without having to spend a lot of cash.
Exceptional Compatibility
One of the things that have helped ExpressVPN become such a big name in the VPN industry is its compatibility. The app works across almost every platform, allowing your workers to enjoy safe, secure connections wherever they are, on any device.
Pros:
Super-fast speeds
Outstanding security standards
Great compatibility
Bottom Line
If you're looking for the best VPN for business or the best VPN in general, ExpressVPN always appears around the top of the list. This VPN excels in all key areas for business use, offering all the features and functionality you need.
For a more in-depth look, read our full ExpressVPN review

Last but not least on our list of the best VPNs for business is Cyber Ghost. Designed to help you feel utterly invisible and totally protected any time you're online, this VPN can offer peerless standards of security and protection for its users. It also ranks highly for speed, customer support, and value.
Speed and Performance
Due to its enormous server network, including locations across dozens of countries around the world, Cyber Ghost is able to provide really solid speeds for its users. It's a highly dependable VPN for business use, allowing your workers and managers to transfer files quickly and easily.
Strong Security
Making use of 256-bit military-grade encryption and industry-leading security protocols, Cyber Ghost is unmatched when it comes to VPN security. This way, business users will be able to rest assured that their files are always 100% safe.
Number of Simultaneous Connections
When it comes to simultaneous connections, Cyber Ghost continues to stand head and shoulders above the competition. Other VPN providers might limit you to 3 or 4 devices at a time, but Cyber Ghost lets each user connect on up to seven devices.
No Logs Policy
When you use Cyber Ghost, you won't need to worry about any data logs or activity tracking whatsoever. The company has a strict no-logs policy, ensuring that its users' identities and information are always totally protected.
Pros:
Excellent security standards
Huge server network
No logs policy
Cons:
Doesn't work as well in countries with censorship
Bottom Line
With a network featuring over 6,000 servers, complete with high standards of security and flawless customer support too, it's clear to see that Cyber Ghost is most definitely one of the best VPNs for business use.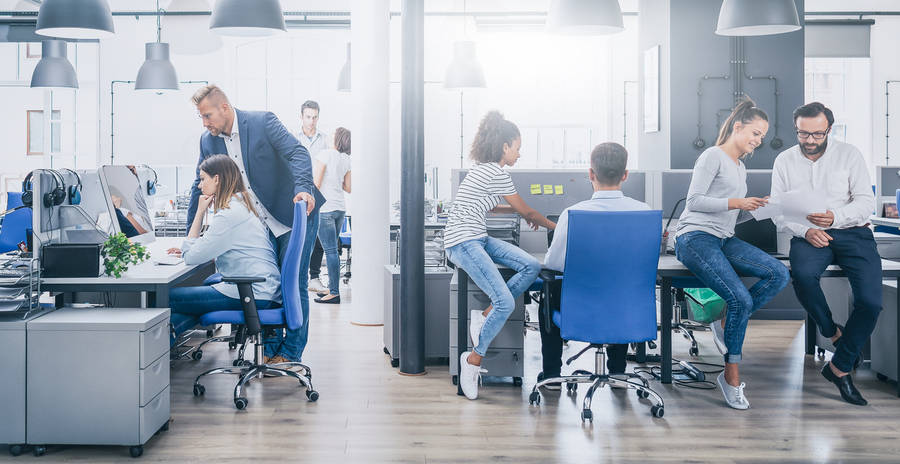 When it comes to VPNs in general, NordVPN is one of the top names in the business. It's one of the most secure and private VPNs you can hope to find, helping to protect countless users worldwide, securing their connections, and not showing their identities to keep them perfectly safe while browsing, downloading, and so on.
Naturally, such a great all-around VPN also has a terrific extension for Chrome. In fact, NordVPN consistently appears on lists of the best VPN Chrome extensions overall and ranks highly for all the key aspects that count the most like speed, security, privacy, and performance.
When you use NordVPN's Chrome extension, you'll be safe to visit different sites and carry out a range of online activities, even in public places, without having to worry about being spied upon or hacked. The extension makes use of state-of-the-art security technology to keep you safe and hidden.
You can rely on the NordVPN Chrome VPN extension to grant you fast performance. It's super easy to set up too and you can make use of NordVPN's excellent customer service to get everything up and running in a matter of minutes.
Pros:
Peerless security
Really easy to use
Fast and reliable
Excellent customer support
Cons:
Slow speeds in some parts of Asia
FAQs
Do I need a business VPN?
In today's world, the answer to this question is almost resounding yes. Any business, great or small, that is using the internet on a regular basis for day-to-day work, business transactions, or customer contact needs to provide the highest levels of security, both for itself and its customers too.
A VPN can help with this, keeping your business files and sensitive documents safe and protected at all times, ensuring that your workers aren't at risk from hacking or tracking, and helping to improve your company's standing with customers too, showing that you are dedicated to their security.
Read More: Ultimate Guide to VPN Encryption
How do I set up a VPN for my business?
Setting up a VPN for business is really easy in most cases, but the specifics of the process can vary, depending on which VPN you choose to use. With Tunnel Bear's Teams plan, for instance, you'll simply need to download the VPN client on the relevant devices and can make use of the built-in management and payment dashboard to control how it works.
Other leading VPNs, like ExpressVPN, offer step-by-step guides to talk you through the whole process. In general, you'll simply need to make your account, download the VPN client, load it up, and connect to secure servers to enjoy total protection. You may also want to set up a dedicated IP for your business for even more privacy.
Read More: Our Complete VPN Glossary
Should I use a free business VPN?
Free VPNs can be useful in some cases, but for the purposes of a business, in which sensitive files are being moved around and high amounts of data might need to be downloaded, uploaded, and shared between users, free VPNs are usually not the best answer. They often have lower standards of security than paid VPNs and may come with data limits or other restrictions too.
Summary
Every business needs to think seriously about online security, and the risks of failing to protect your data can be simply enormous. A VPN can provide some much-needed peace of mind to any business owner or manager, protecting your workers and your customers, and ensuring that your company's files and data remain fully secure at all times. Try one of our best value VPN for business recommendations today to see what a VPN can do for you.
Read More: New To VPN? Read Our Complete Guide for VPN Beginners